Welcome
Welcome to the website of the Australian Consulate-General in Kolkata. This site will provide you relevant links for Australians living and working overseas, as well as servicing Indian business and investment.
This office is responsible for Australia's trade, commercial and investment interests in the eastern and north eastern Indian states of West Bengal, Arunachal Pradesh, Assam, Bihar, Chhattisgarh, Jharkhand, Manipur, Meghalaya, Mizoram, Nagaland, Odisha, Sikkim and Tripura.
For Australians in distress, please call the Australian High Commission in New Delhi. If it is outside of business hours, you may call the Consular Emergency Centre in Canberra on +61 2 62613305. If they cannot resolve your issue from Canberra, they will make contact with a consular official in India who will get in touch with you. See Consular and Passport services.
Consular and passport services will continue to be provided by the Australian High Commission in New Delhi, until further notice.
The Australian Consulate-General in Kolkata does not process or advise on visa, migration or citizenship applications.
Contact Information
1A, Ho Chi Minh Sarani
Kolkata 700-071
West Bengal, India
Tel: +91 900 712 0000
Email: acg.kolkata@dfat.gov.au (General enquiries)
Latest News and Events
Prime Minister Scott Morrison outlined his vision for Australia's place in the world at the 2019 Lowy Lecture. He also announced that he would be visiting India in January at the invitation of Indian Prime Minister Narendra Modi. Another step in cementing India as a top tier partner for Australia. Link to the Speech : https://www.pm.gov.au/media/speech-lowy-lecture-our-interest
Senator the Hon Marise Payne, Minister for Foreign Affairs and Minister for Women has announced 11 recipients of this year's Australia India Council (AIC) award grants. These projects will help in deepening our engagement & relationship with India and also promote a better understanding between our two countries. Link to the Media Release: https://foreignminister.gov.au/releases/Pages/2019/mp_mr_190918.aspx
Applications to sponsor a parent for a Sponsored Parent (Temporary) visa are open. Once a sponsorship application has been approved, a sponsored parent will be able to apply for a Sponsored Parent (Temporary) visa. Applications for the visa are intended to open from 1 July 2019. For more information including sponsor eligibility criteria, number of places available and costs, please visit the Home Affairs website.
Australia's High Commissioner to India, Her Excellency Ms Harinder Sidhu, and Australia's Consul-General's in Kolkata, Mumbai and Chennai paid their respects to martyrs who lost their lives in service to their country. Anzac Day, commemorated on 25 April, marks the anniversary of the first major military action by the Australian and New Zealand Army Corps (ANZACs) in 1915 during the First World War. Approximately 16,000 Indian troops fought alongside the ANZACs in Gallipoli and around 1,600 lost their lives. Over 8,700 troops from Australia and 2,779 from New Zealand died in that conflict, marking both nations' greatest loss of life in a single battle.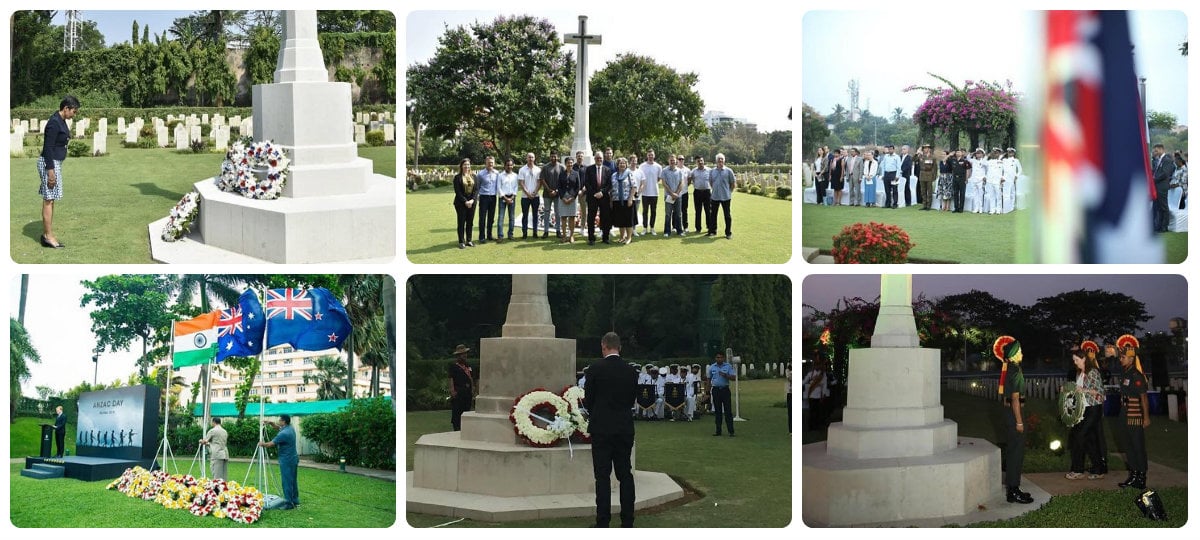 Opening of the Australian Consulate-General Kolkata
The Australian Consulate-General opened on 26 March 2019. The Australian Consul-General to Kolkata, Mr Andrew Ford, commenced on 10 April 2019. He was joined by wife Mrs Christine Ford. For more information, see the "About Us" section.